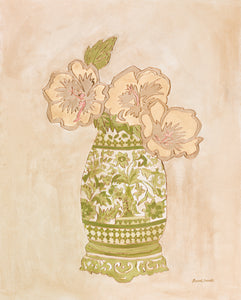 This piece is a part of a trio. Prints of "Welcome Home II" and "Welcome Home III" are also available at noteworthygift.com under "prints"!
"Home is a feeling. You come back here to feel loved, safe and know that you belong. You are always welcome here."

In this note on the back of the artwork, I'm not referring to a physical home, but the feeling of being home. The feeling you get when you are exactly where you belong.
I took a break from my art to have my babies, and as I worked on these pieces, I felt like I was being welcomed back "home" - like I was doing what I'm supposed to be doing, again. 
"Home" to me is a lot of different things, painting and being creative is one of them.
This trio is inspired by the wallpaper in my entryway- the first thing we see when we come through the front door, welcoming us home.