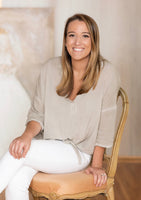 My Story
In 2012, I was a freshman in college and home for the summer. We did not have a Mother's Day gift for my mom yet. So I painted four angels and my siblings and I wrote a note to our mom on the back. I wanted my mom to feel appreciated, celebrated and loved. 
Later that year, my mom's friend saw them, and she asked me to sell them in her shop. That's how Noteworthy began! It turned into a great side hustle while I was in college, but then I got a real job, and I stopped painting completely. 
After a few years of working different marketing jobs, I decided to do this thing full-time, and I officially launched Noteworthy in 2019!
I took a break to have my babies, and I'm so grateful I was able to give all my time and energy to being a mom. Now, I'm ready to pick back up where I left off, but with a new perspective and new ideas!
Continue Reading