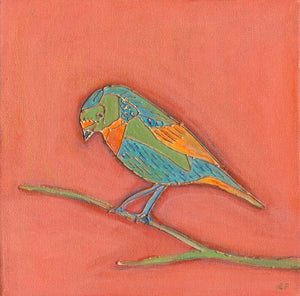 "Be Bold"
This painting, and this whole collection, is about being bold and pushing myself out of my comfort zone. The colors of this little birdy are bold, loud and exciting!

In the past, I've shied away from using a lot of color- sticking to just neutrals and gold in my artwork. That felt safe to me. In this collection, especially in this piece, I wanted to be bold and colorful.

I wanted to challenge myself, and it turned out to be way more fun!