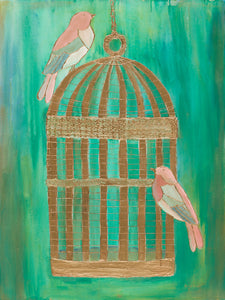 "Freedom"
There is such freedom in just doing what you feel and not overthinking it. This piece symbolizes freedom.
For me, it's freedom in creativity.
The bold emerald green background of this piece is a stray from my normal color pallet. I dreamt about this painting, especially of the cage and it's gold and intricate texture details. I didn't have a plan for it ahead of time. I didn't draw out the patterns, I just played around with it freely.
The golden cage is beautiful, it's a safe and protected home. The birds are intentionally outside of the cage, set free, but still lingering close to home. They are hesitant to stray too far away, but curious. Freedom brings risk, but it also brings reward.
Be free! Let go of the chains and things that hold you back. An inner critic, limiting belief, excuses, or whatever it is… Break away to soar! ✨