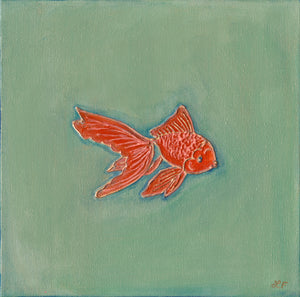 "Keep Swimming" 10x10 mixed media on canvas
Working toward your dreams can feel like you're a small fish in a big pond. At times it can be lonely, scary, and hard, but that's when you have to keep trying, keep swimming.

I think as humans, especially women, we flounder between feeling like we're too much or not enough. The need to explain ourselves and our worth is drowning. If you're working towards a goal, it doesn't matter if someone else understands what you're doing or not. You are worthy!

The things you have to share with the world are unique and beautiful. It may feel like you're the only one to see it at times, but don't give up. Keep trying. Keep going. Keep swimming!